Artist biography and statement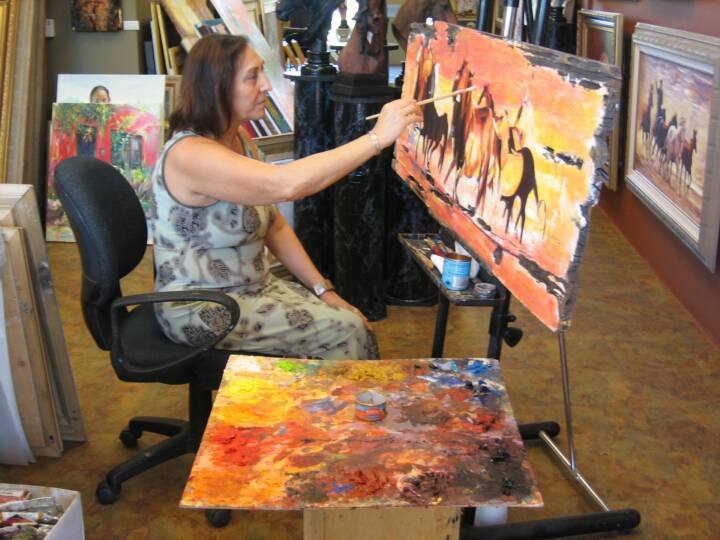 I have a BA degree in Fine Art from the University of Veliko Tarnovo in Bulgaria, specializing in painting, and have been working as a professional artist for over 40 years. Before becoming an artist, I worked as curator at the art gallery and city museum of my home town of Haskovo. In the 1970s I also served as director of the city gallery of Strazhitsa, where together with my husband Michael I was responsible for the organization of annual international painting symposia. In 1977 I visited Paris and its major art museums, the Louvre and Musee d'Orsay among others, which I consider a formative period in my development as an artist. During the 1970s and 1980s I participated in numerous art exhibitions in Bulgaria and my paintings were purchased for the permanent collections of state museums and art galleries. I also found success in the art market with my Byzantine iconography, especially after Bulgaria became more open to foreign visitors and I was able to participate in shows and galleries abroad. Since the 1990s I have been living in the United States where I draw inspiration from the history of its diverse cultural ethnicities, in particular the native populations of the Americas, and from the desert landscapes of the Southwest. I have traveled extensively in the United States and also internationally (Peru, Italy, France, Germany), visiting many art museums and contemporary galleries. I have participated in numerous art events in the Midwest and the Southwest, winning best of show awards. I have worked on both private and public commissions. My icons were purchased for the Serbian Cultural Center in South St. Paul, MN, St. Mary's Cathedral in St. Cloud, MN, St. Sophia Bulgarian Orthodox Church in Phoenix, AZ, as well as for the private collections of Michael Bird (Minneapolis, MN), Father Joseph Kelchak (Indiana), Bishop Kinney (St. Cloud, MN), among others.
Passion and patience are the building blocks of my art. My practice as an iconographer has translated also in my preferred style of classical realism, as I pay great attention to detail and facial expression. Since childhood I was very attentive to shapes and colors, curious to learn about the world and fascinated with the human subject. As a young artist I developed a decorative stylized technique which corresponded to the atemporal nature of my subjects—people in traditional folk costumes, mythological characters, still lives. My attention to form and detail, and my desire to penetrate the human soul through its window—the face—have led me to focus my artistry on the expressive capacities of the portrait and to cultivate an interest in the customs, celebrations and material production of different cultures. I love to observe people, captured by the beauty in their features and movements, hypothesizing about their character and temperament, imagining the stories of their lives. I especially enjoy telling the expressive and passionate nature of the Native American people which is also manifest in the bold prime colors of their costumes. Art is my path for probing the depths of the human spirit and I hope that my paintings will convey this experience to the public.
Publications
2022 Resilience, Exhibition and Special Recognition Award, Manhattan Arts International
2013 Night of a Hundred Angels, Vol. I, Patrick Whelan
2008 Images Arizona, Carefree, AZ
1997 Manhattan Arts International, New York, NY
Galleries
1999―present      permanent exhibit, M & E Stoyanov Fine Art Gallery, Carefree, AZ
2022―2023         group exhibit, Flinn Foundation, Phoenix, AZ
1996―1998         group exhibit, Adelante Art Gallery, Scottsdale, AZ
1992―1995         group exhibit, Saint Anthony on the Main Art Gallery, Minneapolis, MN
1992―1995         group exhibit, Jack Wolf Fine Art Gallery, Minneapolis, MN
1989―1991         group exhibits at "Veliko Tarnovo" International Hotel, Veliko Tarnovo, Bulgaria
1977―1990         annual group exhibits at art museum and gallery venues in Bulgaria
Selected Juried Art Show Participation
Thunderbird Artists Fine Art Festival, Carefree, AZ
Southwest Arts Festival, Indio, CA
Indian Wells Art Festival, Indian Wells, CA
Fine Art Expo, Scottsdale, AZ
Edwards Fine Art & Sculpture, Edwards, CO
Telluride Art Festival, Telluride, CO
Thunderbird Artists Fine Art Festival, Vail, CO
Dixie Green Fine Art Show, Scottsdale, AZ
Aspen Fine Art Festival, Aspen, CO
Scottsdale Civic Center Arts Festival, Scottsdale, AZ
Fountain Hills Fine Art Affaire, AZ
Thunderbird Artists Fine Art and Wine Festival, Scottsdale, AZ
Scottsdale Celebration of Fine Art, Scottsdale, AZ
Beverly Hills Art Festival in the Park, Beverly Hills, CA
Aquatennial Art Festival, Minneapolis, MN
Duluth Art Festival, Duluth MN
Rochester Art Festival, Rochester, MN
Uptown Art Fair, Minneapolis, MN
Owatonna Art Festival, Owatonna, MN
Excelsior Art Festival, Excelsior, MN