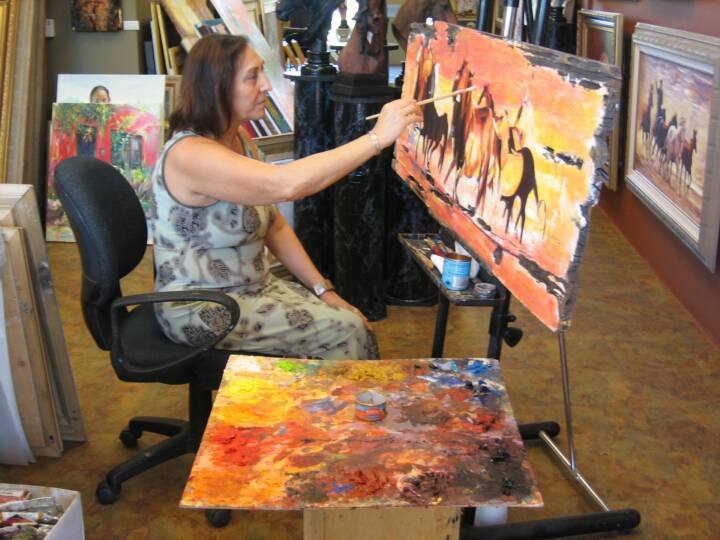 I have a degree in Fine Arts from Veliko Tarnovo University, Bulgaria, specializing in painting. As a young artist I developed a decorative, stylized artistic approach to correspond to the atemporal nature of my preferred subject—people in traditional folk costumes, mythological characters, still lifes. Similarly, in the United States, where I have been living since the 1990s, I am inspired by the history of the diverse cultural ethnicities, and in particular the native populations of North and South America.
Passion and patience are the building blocks of my art. Since childhood, I have always been attentive to shapes and colors, curious to learn about the world and fascinated with the human subject. I love to observe people, captured by the beauty in their features and movements, hypothesizing about their character and temperament, imagining the stories of their lives. I apply my patient attention to detail and contour to tell the expressive and passionate nature of the people I paint which is also manifest in the bold prime colors of their costumes. My attention to form and detail, and my desire to penetrate the human soul through its window—the face—have led me to focus my artistry on the expressive capacities of the portrait and to cultivate an interest in the customs, celebrations and material production of different cultures. Art is my path for probing the depths of the human spirit and I hope my customers will discover mine through my paintings.
Selected Juried Art Show Participation
Arizona Fine Art Expo, Scottsdale, AZ
Fine Art & Wine Festival, Carefree, AZ
Fountain Hills Fine Art Affaire, AZ
Scottsdale Celebration of Fine Art, Scottsdale, AZ
Beverly Hills Art Festival in the Park, Beverly Hills, CA
The Southwest Arts Festival, Indio, CA
Aspen Fine Art Festival, Aspen, CO
Avon Festival of Fine Arts, Avon, CO
Edwards Fine Art & Sculpture, Edwards, CO
Aquatennial Art Festival, Minneapolis, MN
Excelsior Art Festival, Excelsior, MN
Uptown Art Fair, Minneapolis, MN
20+ juried exhibitions in galleries and museums in Bulgaria and other European countries.